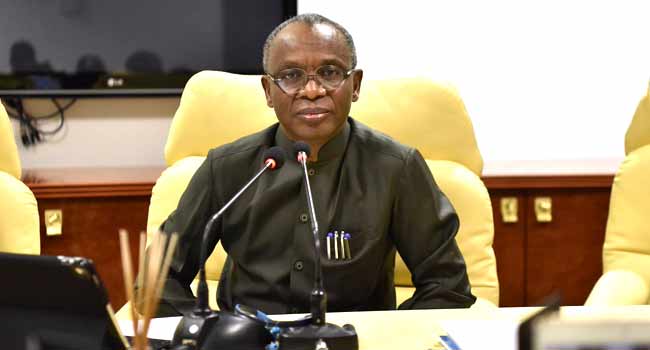 Kaduna State Governor, Mr Nasir El-Rufai, says his administration has kept and will not renege in fulfilling all its campaign promises to the people of the state.
In a state-wide broadcast to mark his three years in office on Tuesday, he vowed that his administration would continue to develop the state and give a new lease of life to the people.
The governor also informed the residents that his administration's restoration agenda of making Kaduna great again remained on course.
He disclosed that they have embarked on a massive construction of urban and rural roads, as well as renovated and equipped classrooms, primary health centres and hospitals, created jobs for the unemployed youths and reformed the state civil service for optimal performance among others.
Highlighting some of the plans of his administration, Governor El-Rufai said, "We will advance the project to upgrade the 255 primary health centres, 23 rural hospitals, and various general hospitals."
"We intend to renovate more schools, complete township roads and continue the programme to retrofit waterworks across the state and improve water supply. The cash cover programme for our senior citizens is already operational, enabling them to settle the cost of being treated for diabetes and hypertension.
"Dialysis continues to be subsidised for the benefit of our citizens dealing with renal challenges. Routine immunisation of our infants remains an overarching priority. Ante-natal and post-natal treatment for pregnant women and children below five years of age is free in our public hospitals," he added.
El-Rufai said the government plans to strengthen the public healthcare system by recruiting more than 500 midwives to improve its institutional capacity as well as ensure safer pregnancies and reduce maternal mortality.
He disclosed that they are hiring young people to work in government agencies, and recruiting professionals such as lawyers, engineers, and architects to strengthen governance at the local level.
The governor noted that despite the lean resources Kaduna has been getting, coupled with the heavy debt burden it inherited, his administration had recruited over 13, 000 new primary school teachers while the process of recruiting additional 15,000 new ones is ongoing.
He said, "As you are aware, we have now recruited about 13,000 new primary school teachers. On Saturday, May 19, 2018, another 65,000 applicants for teaching positions wrote aptitude tests in 139 centres across the state. With the response rate, we are confident that we shall soon achieve our target of hiring 25,000 new primary school teachers.
"Most of our people came together to insist on the right of everyone to decent public education. Across the lines of partisan affiliation, people rallied to the message of equal opportunity for all our children through the foundation that decent public schools can help lay".